Last year, as a junior, I wrote a blog post about my decision to pursue an "uncoordinated" dual degree, which still, to this day, has been the best academic decision I have made at Penn. After making my post, I wasn't even sure if people would read it, but over the past year, I have received over fifteen emails from students interested in pursuing a dual degree who wanted to chat to get more advice. It has been amazing being able to give back and help students who found themselves in a position I was in as a freshman. As a second-semester senior on the way out from Penn with a math major in the College and a statistics concentration in Wharton, I wanted to give my concluding thoughts and advice on completing an uncoordinated dual degree at Penn. I consolidated all the advice I gave out in individual emails and added some extra thoughts that came to mind, and I hope this is helpful for anyone thinking about, or currently pursuing an uncoordinated dual degree.
Overview:


Above is a snapshot from the Excel spreadsheet I used to help plan out my dual degree (I have a link to my spreadsheet below in the advice section). Each semester, I would enter in the classes I was currently taking and, as best as I could, what I would be taking in the future. I didn't really plan more than 1 or 2 semesters ahead, but it was nice to be able to slot a few classes in each semester that I knew I wanted to take next semester (or take note of classes that only met in the fall or spring, so I was aware of this).
College-Specific Planning:

With a dual degree between the College and Wharton, I needed to satisfy the requirements for both schools. On the second sheet of my spreadsheet, I tracked all the College requirements I had to satisfy. At the end of each semester, I would unbold the requirements I had completed, and keep track of how many math classes, as well as overall College classes I had left. Going into this semester, as you can see from the picture above, I had three classes left (in bold): MATH 361, STAT 470, and GEOL 130.  Under notes, I would sometimes put down the difficulty rating (DR from penncoursereview.com).
Wharton-Specific Planning: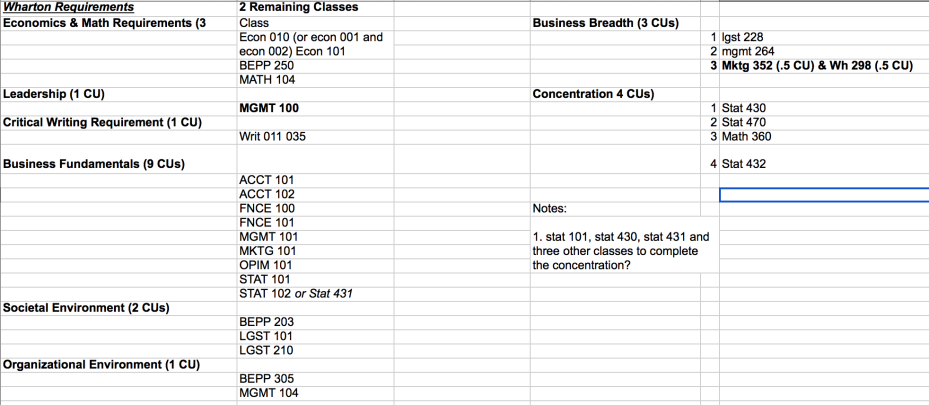 Similar to the College, I used the third sheet to keep track of my Wharton-specific requirements. I used the "bold/unbold" method to keep track of what I still needed to take. Going into this semester, I needed MGMT 100 and 1 Business Breadth requirement, which I fulfilled with two half-credit classes.
Advice:
These are the answers to the questions I received in the emails I got from interested students, as well as some advice I would give to my freshman self.
Can you graduate in four years?

It is absolutely possible to complete a dual degree in four years. Looking at the overview of the courses I took at Penn, I could have taken 5 classes a semester, and I really wish I had done that. Taking two semesters of 6 classes was not fun, and I would have much rather taken 5 my 1st and 2nd semester freshman year to avoid taking 6 classes my 3rd and 5th.

What should I do if I am interested in a dual degree?

Meet with an academic advisor as soon as you know you are interested. I met with Dr. Srilata Gangulee from college advising, and I wouldn't have been able to complete the dual degree without her help. She helped me count exactly how many credits I would need to graduate, and she gave me advice on when I should take certain classes and complete certain requirements. This is all dependent on your choice of major and concentration but you should 100% meet with an advisor (College advisor and Wharton advisor) before you do anything else and have a prospective College major and Wharton concentration in mind.

What's the application like and what is the most important part?

Get started on your dual degree application early. You can apply at varying times, but I think it is best to apply as early as possible, which is the beginning of sophomore year. I really liked how the application was holistic, taking into account GPA, my personal essay, and my extracurriculars. Looking back, I don't think I could choose one part as the most important, and I felt like the application committee reviewed each part equally.

Stay organized. I (like many others) find the planning sheets on Penn InTouch cumbersome, so I made an excel spreadsheet. Here is the link to the sheet I used. It is nothing fancy at all but I found it very helpful to have over the last four years.
Use academic advising before every semester. Looking back, I met with either a Wharton academic advisor or College advisor every semester. It is daunting to plan and tackle all organizational aspects of a dual degree by yourself, and they can answer any question you have.
Use penncoursereview.com as much as possible. For my electives, and non major/ concentration/ core classes, I used penncoursereview.com to screen every potential class I considered taking to check if the course had a combination of a high professor rating and a difficulty rating that wasn't ridiculously high.
Have balance each semester. This aspect was one of the more challenging parts of completing the dual degree. I didn't know when I should take certain in-major classes, sector classes, or foundational approach classes. However, looking back, I feel that for the most part I had pretty decent balance. However, here is my advice (specific to my case as a math major) for going about balance and planningt:

I left too many upper-level math classes to the end of my time at Penn. This made my 7th semester, my senior fall, pretty tough (I was in three math classes). Try to budget out, if not front load for these, as the upper level classes (especially for math) can be much more difficult.
Try to fulfill one sector requirement per semester. This is great for balance. For example, I have some friends who took all Wharton core classes in a few semesters, and, in hindsight, they wish they hadn't done this. On first glance, I also thought "balance" was over-rated, but it personally made a big difference on how a semester went. It is really nice to be able to for example, go from a very quantitative math class, to a venture capital class, to an astronomy class (referencing my 6th semester, my junior spring, at Penn).
In what order should I take Wharton classes? I asked as many people as I could for advice on how to tackle my Wharton requirements. Here is my advice (again, based on my specific case and given my interest in statistics and my quantitative over qualitative preference):
Take MGMT 100 your sophomore spring when you first join Wharton. I decided to wait until senior spring to take the class and the class would have been much more impactful on my time at Penn had I taken it as a sophomore.

With regards to the concentration, I think it would have been ideal had I taken one statistics concentration class each semester of my sophomore and junior year. That way, I would have been done with the concentration by the start of senior year.
I saw the business breadth and and societal and environmental requirements as similar to the sectors in the college in that I would try to add one of these classes to a semester where I wanted more balance in my course load. I took my favorite class at Penn, MGMT 264 (Venture Capital and Entrepreneurial Management) as a business breadth elective, so really make sure to take classes you are interested in with your business breadth.
Tackling the core is tough as there is no perfect or optimal order in which to take the classes. However, if I could go back in time, here is what I would have done (I sorted these classes into tiers as it is impossible to rank them all first to last). Again this is purely my opinion, and for every person, it will be different based on strengths and weaknesses, and interests (for example I am much more quantitative than qualitative):

ACCT 101, FNCE 100 and STAT 101: I am really glad I took these classes first (freshman spring and my sophomore fall) and they gave me a great introduction to several important parts of business.
MKTG 101, STAT 102, OPIM/OIDD 101, and BEPP 250: I wish I had taken MKTG 101 earlier. Many of the concepts you learn are really interesting and applicable to so many things, and I regret leaving this class until senior year. I also think having a solid basis in statistics is important and that's why I put STAT 102 here (if you are interested in quantitative fields, like I was). As for OPIM/OIDD 101 and BEPP 250, these classes are a good combination of quantitative course work, based on a solid understanding of interesting qualitative concepts, and I felt like I took those at the right time. I took OPIM/OIDD 101 my sophomore year and BEPP 250 my junior fall.
MGMT 101, FNCE 101, ACCT 102: These were all interesting classes, but I wish I had taken these towards the end of my time at Penn. Acct 102 wasn't as applicable to my job interests as ACCT 101, FNCE 101 was very macro based (I prefer micro) and MGMT 101 would have been a great class to take senior year as I prepare to enter the workforce.
Was it worth it?
One student asked me a thought provoking question:
"How much do you actually benefit from a dual degree in Wharton as compared to a dual major in the College, or simply just having a single major?"
In my opinion, doing a dual degree with Wharton was the best academic decision I have made in college. At the most practical level, my math major has definitely helped my quantitative and critical-thinking skills, and it absolutely helped me get interviews, my summer internships, and a full-time job senior year. However, being in Wharton and being able to take business classes really gave me a tremendous leg up. It's not even having Wharton on my résumé that made it a good decision. It's because the Wharton experience and education truly is amazing.
I came into Penn knowing I wanted to do a dual degree or double major because I had multiple strong interests, but I didn't want to solely do business undergrad, because at the time, I didn't know what business was. I had never taken a business class in high school and wanted to keep my options open.  But, in hindsight, if I had known how comprehensive and remarkable the Wharton curriculum and experience was, I probably would have applied directly to Wharton and then tried to add the College as a dual degree.
That is not to say doing a dual major in the College is not beneficial. I have plenty of friends who do this and to be completely honest if I didn't get into Wharton with the dual degree, I would have probably done a dual major (or a single major, maybe mathematical economics), but I am so glad I am in Wharton and the College. At the end of the day, you should only do the dual degree if you are actually interested in the classes and curriculum.
People also ask what are the downsides of a dual degree? It is the unfortunate truth that doing a dual degree will limit the other classes you can take (free credits, classes you purely want to take for the sake of taking) as you have two schools worth of requirements to fulfill, but, for me, it worked out fantastically because I have been fortunate in that most of the classes I have taken at Penn have been classes I am interested in. Do not do a dual degree for the sake of doing it. You should actually have a major and a concentration you genuinely want to pursue, and that is the largest piece of advice I will give. If you look at your academic interests and realize you have strong, multiple interests and the Wharton and College can help you dive into both of them, I think a dual degree is fantastic for you.
Final Takeaway
Looking back at my time at Penn, starting from where I was senior year in high school, this is what my path looks like in picture form (the right, not the left):

In high school, I thought I was going to be a life sciences major (biology, physics or chemistry), a math major, or East Asian Languages and Civilizations major (I liked Mandarin). My freshman fall, I though the mathematical economics major looked really interesting. My freshman spring, I actually applied for my dual degree thinking I was going to do physics in the college and a marketing and operations management joint concentration in Wharton. I then thought I wanted to do East Asian Languages and Civilizations in the College and Finance in Wharton. I then finally decided with certainty on math in the College and statistics in Wharton which looking back, were my true interests from the beginning (or is hindsight 20/20?). Every single semester at Penn (other than my freshman fall, my first semester), the courses I applied for in advanced registration were never the classes I ended up taking that following semester. I was always changing my mind, adding and dropping classes, and finalizing my schedule a day before the add/ drop deadline. The following semester, I would tell myself, "Okay, this time, the classes you register for will be the classes you actually end up taking," but time and time again, this didn't happen.
However, at the end of the day, four years later, everything seems to have worked itself out. That is my biggest takeaway. No one knows every detail of their life for the next four years and one cannot truly plan out the next four years of their life (even if they say they do). Finally, I wrote this in my first post and I still believe this today: a great Penn experience, in my opinion, involves balance in one's social life, personal life, and academic life and thanks to my dual degree, I know I have great balance in my academic life.