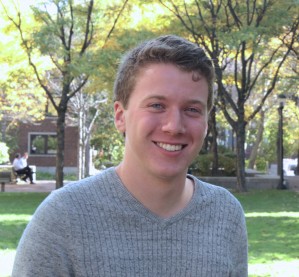 I have always been interested in rare diseases. For much of my childhood my dream was to become a clinical geneticist and treat rare diseases, but in high school I decided that I was more interested in business than I was in medicine. I viewed my acceptance to Wharton as the end of my exploration of rare diseases. Although I chose Wharton mainly because of its heavy emphasis on the liberal arts, I still expected that I wouldn't have the resources, time, or "appropriate major" to study rare diseases. What I didn't realize is that Wharton actively encourages students to explore their interests, even if those interests only tangentially intersect with business.
As I began my freshman year at Penn, I often passed the Children's Hospital of Philadelphia (CHOP). Each time, I would think back to an experience I had there in high school when I shadowed a genetic specialist. During my shadowing experience, I stood stock-still in the torturous atmosphere of the hospital room as the doctor told family after family that their child had a rare genetic disease. I felt sympathy and sadness for the affected families. Reflecting back on the experience, I started to analyze the situation from a business angle. What would incentivize pharmaceutical companies, I wondered, to invest in drug production to cure those horrible rare diseases that I saw? This spring, I applied to the Wharton Summer Program for Undergraduate Research (SPUR) to answer that question.
SPUR is a ten-week summer program that allows Wharton undergraduates to design and perform in-depth, scholarly research. When I first received an email about SPUR I immediately thought about my passion for rare diseases and my new-found interest in their economic forces. I decided to apply to SPUR, but I was doubtful about my chances. I had never participated in research or taken a health care management class and knew only the basics about orphan drugs (drugs developed specifically to treat rare medical conditions). But with the tremendous support of my faculty mentor, Professor Ashley Swanson, and a program that is true to its promise of catering to first-time researchers, I've enjoyed an enlightening summer exploring the orphan-drug industry. Through SPUR I've become more analytical and globally aware. I've learned not only about my own interest, but also the interests of my nine fellow SPUR scholars. The ten of us created a community of undergraduate student researchers with disparate interests but the same goal: to discover something meaningful. After weeks of topic changes and dead ends and through mutual support and commiseration, we all eventually achieved what we had hoped for: that breakthrough moment.
Back when I was attending college information sessions, I found myself staring at the auditorium ceiling every time the question of "undergraduate research opportunities" was inevitably raised. I had no interest in research back then, but my experience in SPUR changed that. SPUR has opened my mind to pursuing additional research opportunities in my time at Penn.