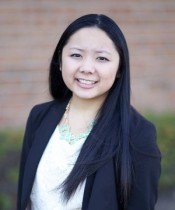 As a freshman coming into Wharton, I knew that there would be an endless number of opportunities at Penn to get involved and find my niche. During New Student Orientation my first semester, I attended "clubbing night" – a night dedicated to showcasing 40+ Wharton clubs ranging from investing to consulting, finance to fashion, sports business to marketing.
Learning about all these clubs, I tried to imagine how I could make the most tangible difference on campus and in the community. In high school, I loved getting involved in community service. I wanted to continue service in college, but this time, combine it with business.
Wharton proved to be the perfect place to combine my love for giving back with my interest in business, through a field called social impact.
Social impact creates a world in which profit and philanthropy can coexist and a business can make a difference without sacrificing revenue. This semester, I was able to explore social impact through multiple lenses, including serving on the Wharton Social Impact Advisory Board (SIAB), working a fellowship for the Wharton Social Impact Initiative (WSII), and being a part of Penn Social Entrepreneurship Movement (PennSEM).
As a part of the Social Impact Advisory Board, I've been able to work with eight undergraduates on initiatives to better integrate social impact at Wharton and increase the visibility of social impact on campus. These initiatives include organizing an MBA/Undergraduate Social Impact Mentorship Program, creating and emailing weekly social impact newsletters (subscribe here!), developing a social impact internship program, quantifying Wharton's contribution on Philadelphia non-profits, and holding coffee chats throughout the semester. Working closely with the WSII, our board is able to offer student feedback and assistance on social impact activities each semester.
WSII offers unique fellowship opportunities to gain a hands-on perspective working for local non-profits and meaningful projects. Through the WSII White House climate data fellowship this semester, I was able to research how innovations in water management can improve food security in the United States. My team's market research will ultimately help entrepreneurs in the FastFWD accelerator program create start-ups in order to tackle food security issues.
As part of the Compass Fellows program in PennSEM, a club that focuses on social entrepreneurship and consulting, I was able to learn the fundamentals of what defines a social enterprise and how to go about building one. PennSEM also organized incredible speaker events, which gave me insight on how successful social entrepreneurs got started and shaped their businesses.
In addition to these extracurricular opportunities, Wharton offers a concentration in Social Impact & Responsibility that takes a multidisciplinary approach to exploring how business and social value intersect.
No matter what you're interested in—whether it's finance, entrepreneurship, consulting, or another business discipline—you can always make a meaningful impact. With Wharton's growing number of social impact opportunities, students are sure to find a way they can give back to others and learn a lot in the process.