Earlier this month, Gina Ah-Fenne, Shahaab Bhanji, Varshil Patel and I had the opportunity to represent Penn at the Copenhagen Business School (CBS) case competition. We spent the first four days exploring the city with our CBS hosts and the other teams, and the last two days working on the case itself.
Over the first half of the week, we had the opportunity to see many Copenhagen landmarks. One of the most interesting sights was the tour of Christiania – a region in the heart of Copenhagen that functions semi-autonomously from the rest of the city.  Normal laws don't apply, and the government only intervenes when things get out of hand.  The laws of Christiania are created by discussion, and every one of the 1,000 citizens has veto power.  The freetown has even purchased the land they live on from the government, and sells equity to people throughout the world in order to pay off the mortgage. Other highlights included the Welcome Dinner on Monday, where we had a chance to meet several Ambassadors as well as the Prince of Denmark, HRH Joachim; and our meal at Noma, which is one of the world's most highly rated restaurants.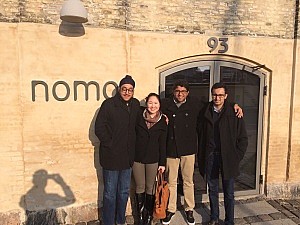 The second half of the week was centered on the case itself.  In past years, the cases have been on large, Nordic companies – H&M, Bang & Olufsen, Toms and LEGO are recent examples.
This year, however, the case writers selected the Copenhagen Zoo. We had an opportunity to visit the zoo and also got a chance to spend ten minutes with the CEO to ask questions.  Every team then had 32 hours to prepare a solution to the case, and more than one team ended up not sleeping all night in order to continue working.  After handing in the case Thursday evening, we went back to the hotel to crash and practice our presentation for Friday morning.
Friday brought two rounds of presentations – first, within Group A, with teams from UNC, FEP (Portugal) and FGV (Brazil), and second, with the winners of the other groups, CBS and NUS.  The finals were incredible – we got the chance to present in front of a room full of about 500 people, including a jury of about 30.  We ended up being selected as the champions, and Varshil was best presenter by popular vote of the entire audience.  In short, the CBS case competition was truly a once-in-a-lifetime experience because of the people at CBS, the other teams, my teammates, and our faculty advisor, Professor Asher.