From the small town in Virginia, from where I hail, when you say "I go to the Wharton Business School" you always get the polite response of "That's nice, business is cool, what are you studying?"
From the city of Philadelphia, where I reside most of my year and now call home, when you say "I go to the Wharton Business School" you tend to get the response "Nice! Where did you do your undergrad?"
From the city of Melbourne, where I am studying on exchange for a semester, when I say "I go to the Wharton Business School" I have only gotten the response "Wow! Isn't that a really hard and good Uni?"
To which I can finally respond with all the statistics I have learned about rank, average student information, and employment statistics from being a Wharton Ambassador. The more I share these statistics the more proud I become of what Wharton's name and its marvelous network has accomplished.
It is such a great feeling to go to another country and have them recognize the name Wharton.
…to look in my first textbook for the University of Melbourne Business School, cracked open before semester begins, and see a Wharton professor has helped with the research within.
…to have professors who are colleagues with Wharton professors.
…to see potential for Wharton graduates to expand their companies here.
It sounds a little absurd, but I had to go 10,000 miles across the globe to finally realize what an amazing honor it is to study my undergraduate career at the Wharton Business School.
…to learn from the top minds of our time.
…to network with the leaders of tomorrow.
…and to graduate with the esteem and honor of being a Wharton alumna.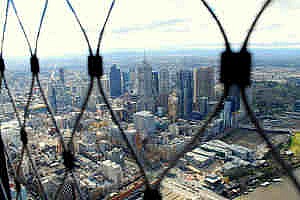 Now for some fun pictures repping the Wharton Ambassadors Fleece abroad with none other than the Aussie animals!