Penn basketball has always been one of those traditions that just exudes history, and it hits me every time I step out of the concourse and into the stands.  I need only a quick glance at the rows of championship banners hanging from the rafters to be reminded that teams have been fighting it out on the Palestra floor for decades.  Whether it's for an Ivy League Championship or bragging rights over another one of Philadelphia's Big 5 schools, I never get tired of seeing Penn play those games I grew up watching, only now as a student.  To understand why, take this season's Penn-Princeton game—another chapter in one of college basketball's greatest rivalries.
I filed into Palestra for what would be the 225th meeting of the two schools, taking my seat behind the hoop in the "Red and Blue Crew" student-section.   As in only the best Pennsylvania-Princeton match-ups, the Quakers stayed pretty well in control throughout the game, but still had to fight off a persistent Princeton squad time and again.  Yet every time the Tigers just about closed the lead, the Palestra's sixth-man effect kicked in.  A nearly full-capacity crowd of students, alumni, and Philadelphians—just like we had that night—can really turn the volume up in that echo chamber, shaking the entire Palestra in deafening support of the Quakers.  After a game full of such moments, both a solid performance by the Quakers and 28 points by senior guard, Zack Rosen, ultimately put Penn over the top, paving the way for post-victory streamers amidst signing "The Red and Blue" (watch it on YouTube).
Now, this wasn't my first Penn game by any means, but no matter how many victories I see, I'm always still amazed that great games like this have been played and replayed on the Palestra court for nearly a century—with no end in sight.  Games where you don't even notice how uncomfortable those worn, ancient benches are because you never sit down.  Games where you get to sing the Red and Blue along with alumni after that unlikely comeback.  For me, these experiences really connect with the traditions and the history that make the University what it is today, and it's one of the reasons that I'll always be a proud supporter of the Red and Blue.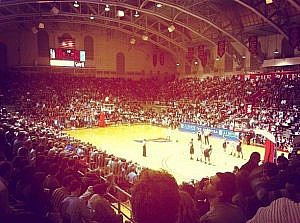 You need only look at the tiny scoreboard in the East Concourse to see the results: Penn at 123 and Princeton at 102 total wins over the decades.