To be honest, sifting through Penn's 400+ clubs, on top of Wharton's 40+, can be quite daunting. Hundreds of clubs set up booths on Locust Walk for the Club and Activities Fair at the beginning of the school year. By the end of the fair, you've only had time to check out maybe fifty clubs, and you've signed up for about ten of them… and then the emails start flooding your inbox.
Even though I have only attended the Club and Activities Fair once in my time here at Penn, I have joined a few new clubs every semester, only to lose interest in most of them after a few months (except Wharton Ambassadors!). This semester, I realized that instead of attempting to balance as many extracurriculars as I did in high school, I should focus more on my academics and maybe just sign up for one new club this time around. I decided to sign up for something random, something out of my comfort zone, but something I was still interested in…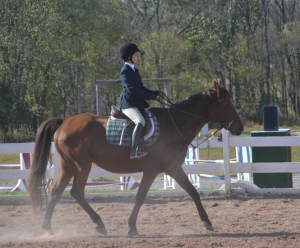 The UPenn Equestrian Team! It was definitely a shot in the dark, seeing as I had never ridden horses before, yet I don't regret the decision one bit! I'm getting to know a friendly, diverse group of students well through hour-long car rides and day-long horse shows. I'm looking out for the other riders, just as the veterans are looking after me. I'm exercising muscles I didn't know existed. I'm simultaneously learning and having fun. I'm escaping the hustle and bustle of Penn by spending a few hours every week in the New Jersey countryside and representing Penn at competitions. I'm also concentrating on not falling off the horse enough that I forget about my schoolwork and on-campus recruiting (OCR) for a second!
Although it can be easy to feel overwhelmed by all the opportunities Penn offers (and overwhelmed by your desire to do it all!), I'm glad I didn't give up, and I'm glad I decided to try something totally new. College is the time to do so, anyway!