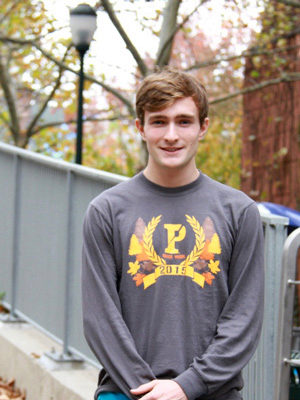 As you will discover as soon as you get to campus, one of the best parts of Wharton and Penn is the food! Penn's dining options are great because they offer such a diverse variety that it is always easy to find something convenient that you want. All freshmen are placed on a dining plan, but many upperclassmen (including me) choose to stay on it for more of their years at Penn.
Basically, each dining plan comes with a certain number of "meal swipes," which allow you to eat in the dining halls, and "dining dollars," which can be spent like dollars at any of the Penn food stores. Especially in freshmen year, meal swipes are a great way to bond with your hall mates and new friends when you first get to campus. Penn offers three different dining halls (one in the Kings Court dorm, one in the Hill House dorm, and one closer to the Quad called the "Commons"). All of these are all-you-care-to-eat buffets, so they are great places to have long meals with friends and even camp out and study throughout the day. The dining halls also put their menus for the day online in advance, so you can decide which you are in the mood for without even leaving your dorm room. If you are ever in a hurry, meal swipes can be used to do takeout from the dining halls or even "meal swipe equivalency" where you can take an entrée, two sides, a dessert, and a beverage from a few different Penn stores. Most dining plans give plenty of swipes, which is great because there are so many tantalizing ways to use them.
But if you are not in the mood for a dining hall meal, there is even more variety that you can get with your "dining dollars." You can use these at a variety of different places around campus: Houston Market, which serves everything from burgers and pizza to sushi; Starbucks; a full grocery store under the Commons dining hall; and Tortas Fronteras, a restaurant by celebrity chef Rick Bayless. Wharton is particularly lucky to have the Bridge Café right inside Huntsman Hall where most business classes are held. The Bridge Café serves hot hoagies and sandwiches, salads, and some of the best omelets and breakfast sandwiches I have ever had. Even if you do not have much time, you can stop by Bridge on your way to class for a great cup of coffee.
Penn makes it so easy: most days all you need is your Penncard to get great meals all day (with some food options still being served as late as midnight). The Penn dining plan is truly one of the best parts of Penn!