One of my favorite questions that I am asked is, "What is your least favorite thing about Penn?" It is an easy question to answer: as a dancer who has trained and competed for over sixteen years, the lack of a Penn dance program was upsetting to me. In fact, I nearly did not confirm my acceptance because I was so concerned about continuing my dance education. Luckily, at Penn Previews in April, I found the perfect solution.
Alex Wiggins, a Wharton Ambassador at the Penn Preview, asked, "Does anyone here dance?" I nearly jumped out of my seat. With a beaming smile on my face, I was introduced to Kelly Furukawa, the marketing director for Penn's Arts House Dance Company. Within fifteen minutes,I was convinced that I would be able to dance at Penn. What's more: as a "Newbie" member in the Arts House Dance Company (AHDC) this semester, I am actually dancing as much as I did training at a competitive studio.
AHDC provides dancers the incredible opportunity to continue working on their technique, develop their artistry, and collaborate with some of the most talented dancers at Penn. Each year, the company has a fall show and a spring show featuring choreography by members of AHDC, who train 3-5 days a week, including weekly classes and weekend rehearsals.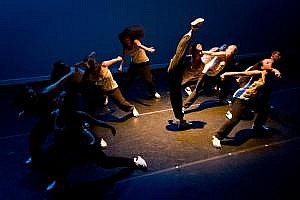 Personally, the past few months dancing with AHDC have been two of the best months of my life. I already feel as though the company is my second family, and I cannot wait for rehearsal every weekend. I am so thankful to have this outlet of expression and discipline, even without a formal dance program. I believe this goes to show that there truly is something for everyone here at Penn. Everyone finds where he or she belongs, and I know I belong in the Arts House Dance Company.