During my time at Penn I developed an appreciation for how much we are given as students, and realized that it is something that is quite easy to take for granted. When I realized that, I wasted no time in seeking out activities within Wharton that would not only be fun, but also provide me with unforgettable experiences.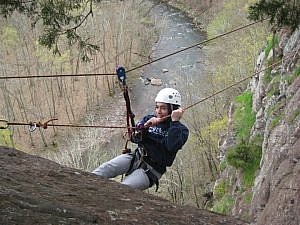 Wharton Leadership Ventures is one of my favorite initiatives at Wharton. The whole premise of the program is to offer students the chance to develop and exercise leadership skills through adrenaline-pumping activities that require teamwork. Rock climbing, rappelling, traversing, white water rafting, and sailing are just a few of the activities offered through the program and, best of all, they're free! I came out of each of those activities more knowledgeable, more empowered, and endlessly entertained. I learned to do things I never did before and to take the lead in getting to the bottom of a rock wall, reaching the end of the river as we powered through the currents, and speeding through the Inner Harbor in Baltimore as we directed our sailboats to the docks on a windy day.
Above all, Wharton Leadership Ventures provided me with memories that I will always look back on. I met many interesting people during the activities, and shared experiences that will always be remembered, but can never be duplicated. So if you can, look for your Wharton Leadership Ventures and take advantage of opportunities to do something you've never done before. You'll be surprised at what you get out of it.