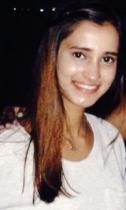 When I arrived at Penn, it seemed that much of my semester had already been decided. I already knew the classes I would take, the dining halls I would eat at, and the libraries I would pull all-nighters in. However, there was one incredibly important aspect of my new life that had yet to be figured out: my extracurricular activities. Fortunately, Penn has hundreds of different clubs and organizations to help students like myself explore their interests and passions.
As of now, my interests lie in entrepreneurship and finance. One of my favorite activities this past semester was consulting for the Wharton Small Business Development Center, or the SBDC. The SBDC puts small local firms in touch with Wharton student consultants who work to achieve the business' goals. This past semester, I worked with organizations whose mission revolved around sustainable business practices. It was a wonderful experience to learn how to expand these businesses and meet successful entrepreneurs in the area.
On-campus activities, such as consulting for the SBDC, are not only a way to further delve into an area of interest, but are also a great way for me to meet other individuals with similar passions. Some of my close friends this semester came from activities outside of class. I would highly recommend that incoming freshmen get involved in several clubs that they find interesting during their first semester. And don't worry freshmen—you don't have to stick with all of them! Throughout the semester, you can hone in on which clubs you enjoy the most and go from there.