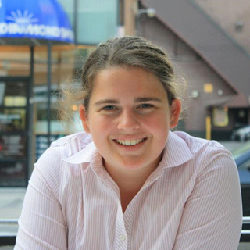 I love people and am always thrilled to meet new people. As a senior, I am lucky to have so many friends close by and to have a strong network of Wharton friends who have graduated and are doing amazing things all around the world. That being said, I knew maybe three people when I first started at Wharton three years ago. How did I go from being a Canadian far from home who knew no one, to someone who feels at home in Philadelphia and is surrounded by amazing friends? Wharton and the incredible opportunities it has given me to meet new people is a major reason.
I remember meeting my MGMT 100 team on day one of my Wharton education. Fast forward a few years and they are still some of my best friends on campus. They are also some of the most accomplished people I have ever met – one of them is a national discus champion, another studied abroad in Senegal, and another is now a MGMT 100 teaching assistant with me!
Another great way to meet peers and upperclassmen was the cohort system. As I write this blog, I am wearing a 'Cohort Peso' sweater from when my cohort won the Cohort Cup. I became close with members my cohort through fun events like the annual Cohort Thanksgiving dinner.
Getting involved in clubs is also a good way to meet people who may share your interests. I love teaching and being a resource for others, so I became a MGMT 100 teaching assistant and have met other amazing, driven individuals who share my passion. I am also interested in research and have had the opportunity to meet other students through the Joseph Wharton Scholars program who are researching everything from predictors of hedge-fund performance to women's performance in entrepreneurship.
There are many ways to find mentors at Wharton who will change your life. I was lucky enough to be paired with a mentor who is an incredibly influential person in my life. When I was a young, naïve freshman, she introduced me to her friends and made me feel welcome at Penn. She has since graduated, but has remained a trusted advisor and has helped me with countless decisions ranging from which job to accept to where to live in New York.
Wharton's study abroad program in Singapore allowed me to build strong bonds with my two friends from Wharton who also went and also to meet tons of people from across the world. I encourage other students to take this opportunity to expand their awareness of cultures by meeting such diverse people.
Even Wharton experiences that you would not expect can be great opportunities to meet new people. For example, some students in a class I am currently in just created a sign-up sheet to grab coffee with a random person from the class to facilitate getting to know each other.
At every company I have worked at so far, the Wharton network has allowed me to meet awesome people. For example, the investment bank at which I worked last summer had a Penn network – we would go for lunch every few weeks, and I was able to meet partners and principals who were looking out for me because of the bond we shared.
I can tell you from countless discussions with friends in freshman year that we have all been there–worried you won't find 'your people' or feel at home in this new campus. But I am here to tell you that you definitely can, and Wharton provides a ton of opportunities to do so!