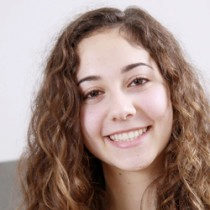 Every Tuesday and Thursday I sit at the corner of 39th and Spruce and wait for the 42 bus.  I ride down to 57th street with my friends in Penn for Youth Debate and hop off the 42 at Hamilton Middle School.  As volunteers, we teach middle and high school students about public forum debate and host tournaments for them on Penn's campus.  Through volunteering, I have met Penn students in every year and spent time with them at barbeques, study breaks, and dinners.  We chat on the bus while we travel, and we learn to communicate without talking in the classroom.  One of us leads and asks questions while the other writes on the board.  We discuss topics like cyberbullying and healthcare policy, as we work to instill skills that we've found crucial to our own education.
Each week, I'm reminded how lucky I am to be in a city that is my classroom.  I teach the students about note taking and refutations, and in turn they help me to constantly improve my presentation and large-group-engagement skills.  While they are learning what questions they should ask to clarify information for a debate topic, I am learning how to guide and empower others.  Whether we are comparing the merits of one brand of chicken to another or critically analyzing the nuances associated with different shoe brands, we teach each other invaluable lessons and share lots of laughs.
Before coming to Penn I assumed that I would only learn in the classroom. I never imagined that the leadership and logic skills I learn every day in the classroom would be so applicable to my work in a middle school.  At Wharton, we focus on evolving beyond a world of theory and morphing our knowledge into pragmatic solutions.  I enjoy volunteering and believe it is important to the community.  I also value the experience because it allows me to grow. So, I am thankful that I am involved in the community and have the opportunity to extend my work beyond my own classroom and into another.
I actively work to experience the city and all it has to offer.  Through volunteering, I expand my education outside of the Wharton classroom. By teaching debate, I hone my leadership skills, ability to thrive on a team, and critical thinking. The journey between 39th and 57th is about more than transportation — it embodies the spirit of practical application and open-minded thinking that flourish at Wharton, and I love that I can be part of the greater Philadelphia community!