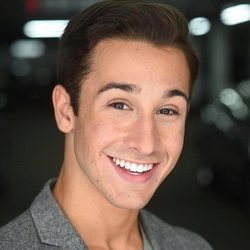 As I prepared for my Marketing 101 lecture today, I realized something bittersweet: one month ago today, I performed in "Elf the Broadway Musical" at Madison Square Garden for the last time.
In April of 2014, I was nearing the end of my freshman year. I absolutely loved Wharton and Penn – my classes were relevant and challenging, living in Philadelphia was such a great experience, and I was involved in many groups on campus, including Wharton Ambassadors! However, there was one thing that kept bugging me: I longed to be a professional dancer.
I trained as a competitive dancer for 16 years, and while I wanted to get a business education at Wharton, dance has always been my passion. On a whim, I decided to go to an open cattle call for Clear Talent Group, one of the best dance agencies in the country. After three grueling callbacks against over 500 dancers, CTG offered to represent me. I thought that if these renowned agents believed I could be a dancer, then I should take time away from Penn to pursue my dance career.
In May, I signed my agency contract and took a Leave of Absence from Wharton for the full year. A year later, I had danced for "America's Got Talent" at Radio City Music Hall, a national anti-bullying PSA, Michael Susten & Company, music videos, and the national tour of "Elf the Broadway Musical." In the summer of 2015 I became a member of the Actor's Equity Association while performing in "La Cage Aux Folles" at the prestigious Goodspeed Opera House, and I was also fortunate enough to be a featured Las Vegas finalist twice on "So You Think You Can Dance."
After a whirlwind year, I was unbelievably thankful for the opportunities that had come my way, but I truly did miss Penn. I was all set to return in the fall of 2015, when my agents called me: I had booked "Elf" again, but this time it was set to play at Madison Square Garden in New York City for all of December. This was an once-in-a-lifetime chance, and I decided to take it. I delayed my return to Wharton for one more semester to have my New York debut as an actor, performing 8 shows/week in front of 6,000 people a night. As wonderful as it was, I have to admit that I missed school even more during this last contract.
Fortunately, I am ecstatic to say that I could not be happier to be back. I missed the energy and pace of Wharton, as well as the charm and community of Penn's campus. Everyone has been so welcoming, and my professors, academic advisors, and friends have been very helpful in me transitioning back as a full-time student. In fact, I sometimes feel like a bit nerdy because I am genuinely excited every day to do simple things like take notes and have class discussions. All in all, I had the most incredible time pursuing my dance dreams, and now I can continue to pursue my collegiate dreams at Wharton. It's good to be back.