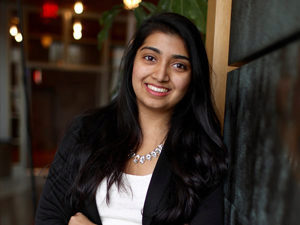 Coming into college, we are all prepped with the same phrase that we "will find some of our closest friends here."  While this is true, another aspect not many people tell you about is all the mentors you will gain who help you survive your four years of college and beyond.  Sometimes its crazy to think that someone who hasn't known you for the first eighteen years of your life has such a big impact, but that's the beauty of these four years.
One of the drastically different aspects of college from high school is that upperclassmen are not distinctly separated from the freshmen.  My first semester in, I met upperclassmen through classes and extracurricular activities. Simple, "how do you do this problem?" questions turned into "should I continue in this career path?"  I was guided to make some of my best decisions at Wharton due to my mentors. The best part is that, even when they leave, they remain some of my closest confidants whenever I am in need of life advice.    
Being a senior means I am now one of the oldest, and debatably wisest, people on campus. I realize most of my mentors, who have shaped my past few years at Penn, will no longer be on campus with me.  However, my peers themselves have become some of my biggest mentors and inspirations.  A lot of times, I have found that we pull each other up whether it be studying for that midterm next week, prepping for the "big" interview, or even making bigger life choices. I have gained and provided peer mentorship.  I have learned as much from my peers as I have from professors, and I realized that I chose a school like Penn for this exact reason. 
The term "mentor" is not restricted to older people and that has been made very clear through my past few years at Penn where I have been fortunate enough to gain mentors through so many unique interactions.  So, here's to all the mentors who helped me through every rough exam, every successful semester, and through my time at Penn.