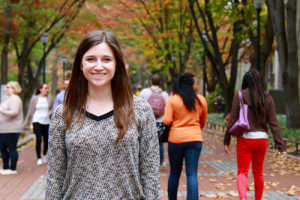 Thanksgiving is approaching: a time for family and friends, a bit too much turkey and stuffing, and reflection on all the things we are grateful for. This Thanksgiving marks the 4th one during my time at Penn, giving me a lot to look back on. Something I am incredibly grateful for is the community that I've found at Wharton and Penn. Being away from home for three and a half years now has opened my eyes to so many things, from meeting peers from around the world to learning from their talents and passions.
I am also incredibly grateful for the resources that Wharton has given me through my time here. As a senior, I am rapidly approaching the real world, and I feel remarkably prepared for it. The applied-learning approach at Wharton has given me experience working on teams on real projects, exposing me to challenges that may be faced in these situations. Beyond the content I have learned in my classes, I feel lucky to have academic and career advisors who have helped me to discover my passions and set me up on the path to pursue them.
Finally, I am grateful for Philadelphia. At Penn, we as students are lucky to have a beautiful campus that happens to be located in an incredible city. Not only do we have the resources that Penn offers on campus, but we have all of Philadelphia a short walk away. From exploring Old City to trying every food option at Reading Terminal Market, Philadelphia greatly enhances my experience at Penn.
Overall, as I reflect during my final Thanksgiving at Penn, I know that my Penn and Wharton experience has exceeded my expectations in many regards. Even at this point, each day offers a new opportunity, and I look forward to taking advantage of those for the rest of my senior year.