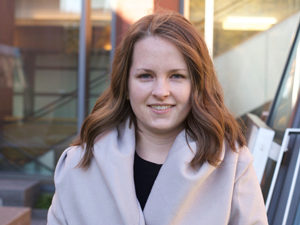 When I tell people that I'll be the first woman working on my full-time-job team, their first reaction is usually surprise.  "How is that possible?  How were you able to do that?" Let me preface this by saying what I have to say is not a social commentary on gender equality or on the industry I will enter post-graduation.  Instead, it is an encouragement to everyone who looks at uncharted water and is at first afraid to jump.
I never felt discriminated against during my internship, and I felt that my team was as welcoming to me as they would have been to any other equivalent male candidate. However, it was me who at first doubted my ability to perform and fit in in a male-dominated culture.  I looked at the relatively homogenous workplace I was potentially going to enter full time with fear of rejection and preconceptions of what it would take to succeed.  I talked myself into a fear of failure before I had even tried.
What I realized over the summer is that I was perfectly equipped for the job all along.  At Wharton, I was given access to top professors and cutting-edge resources and have taken a variety of classes that have prepared me for what I will be doing.  I have led clubs, held jobs, and done plenty of interview preparation in my time here so far. Wharton has empowered me by both providing the skills and the support system to truly succeed in any environment I would choose to enter.
The final obstacle was the least likely: myself.  I have access to amazing resources and people, and now all I had to do was take the leap.  So many times in the summer, I relied on the knowledge and experiences, as well as the support system, that I've gained here.  And in the terminology of Sheryl Sandberg, Wharton empowered me to truly lean in.