Posted by Kimberly Yao
I made excuses. I was always too busy studying for a midterm that I knew I was going to procrastinate for, too busy with a horseback riding lesson that I scheduled at that exact time on purpose, or just too busy sleeping in. Essentially, I was afraid I wouldn't know what I was doing, and I was afraid to compete with my talented classmates.
But my calendar was too free on Friday, October 18, for me to come up with any more excuses. That morning, I woke up early, put on my best skirt suit, and walked over to my first management consulting case competition: the 2013 Accenture Innovation Challenge to help a nonprofit client, Usher's New Look Foundation, grow and expand its successful youth-empowerment program.
I met up with my randomly assigned team—Maria Jose Corella, George Song, and Chetna Johri—only to discover none of us knew each other. We spent a little time learning about each other, but then it was down to business, seeing as we only had about three hours left. Half the struggle itself was immediately trying to churn out a solution and a presentation to a problem we literally just read about and with a team I literally just met. Since we had used so much time at the beginning to understand the 60-slide information deck, we scrambled to come up with a few big issues and allocated one to each team member. We ended up having to trust each other to flesh out the solutions to and create slides for our respective assigned issues.
We had one of the earlier time slots for the first round, and we were nervous! We hadn't even heard each other present our slides before we stepped out in front of the panel of judges. Within ten minutes, it was all over. Honestly, I can't even write much about this since it was such a blur, but basically we all thought we were going to get cut.
We turned out to be one of two Penn teams chosen for the semifinal round. After meeting for hours and hours over the course of a week, we sent in a more polished presentation and a few more required deliverables. Somehow, we managed to be selected for the final round in Atlanta with two other teams. At Accenture Atlanta, the three teams took turns presenting solutions to the Board of Usher's New Look Foundation and Accenture partners. I was impressed with how incredibly creative the University of Michigan and University of Virginia teams' solutions were compared to ours. In the end, however, I think our practicality and rigorous financial modeling stood out to the judges, who ultimately selected our solution.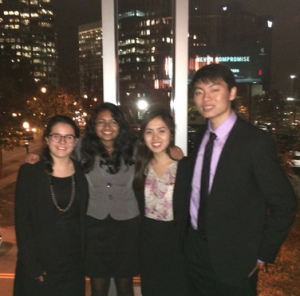 Since our case competition was for a real client, we had the honor of presenting Usher's New Look with a $10,000 check from Accenture and also got to work with two Accenture consultants to implement our solution this past spring. We essentially completed analyst-level work, each devoting 5-10 hours a week to benchmarking peer organizations and diligently researching each step of the implementation process to make sure we were presenting Usher's New Look with the best option. This was my team's first time working with consultants on a real consulting project—an extremely valuable experience that gave me an inside look into a potential future career for me. Through the course of the entire case competition and implementation, I've learned more about management consulting and gotten closer with my teammates, who will all be interning at Accenture this summer.
Now I know that great opportunities come when I try new things! Hopefully, I'll be just as willing to try new things when I work at Accenture San Francisco this summer!