Penn International Business Volunteers (PIBV) is a student-run nonprofit organization that coordinates pro-bono consulting projects that allow students to utilize their business and leadership skills to identify and solve operational problems of NGOs in developing countries. PIBV's summer trips are open to undergraduate students in all years and majors and tend to span a diverse set of countries; in the summer of 2013, this list included Malawi, Chile, Kazakhstan, Turkey, Costa Rica, Morocco, Peru, and the Philippines. Having been a general member of the organization since the fall of my freshman year, I figured it was finally time for me to apply for one of these trips, especially after joining PIBV's executive board last spring.
From composing a business plan for a bottled water enterprise to crafting a marketing strategy for kilim-weaving artisans, there were so many diverse and amazing project options that it was hard to choose one! Ultimately, I applied to work with One Million Lights Philippines (OML PH), a youth-run nonprofit founded by a fellow Penn student that aims to provide clean, safe, and accessible lighting to the twenty-two million Filipinos without access to electricity. My team included four other students, all freshmen and sophomores with a wide range of talents and experiences to contribute to the NGO.
The five of us headed to Manila together right after finals on May 9th with the goal of helping OML PH improve its internal structure and measure its external impact on the community over three weeks. The expected culture shock did not come right away; it turned out that our housing accommodations were extremely comfortable and most people in the urban areas even knew how to speak English. In fact, we were fortunate enough to spend our first few days shopping and sight-seeing with the founders, who were all around the same age as us. This was one of the best aspects of our particular trip – after working on our project in the afternoons, our new friends would take us out to dinners, movies, and karaoke joints at night. One of my most memorable experiences was going horseback riding for the first time at a country club at Tagaytay Highlands, a mountainous region overlooking historic lakes and volcanoes.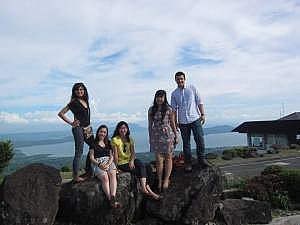 On most days, we worked with the OML PH team in office settings to accomplish our overarching deliverables. However, they also wanted us to experience an actual distribution of solar-powered lighting to impoverished, off-grid communities. During our second week, we accompanied OML PH and its sponsor, Energizer, to four distributions, with one of the sites over eight hours away. These distributions truly showed us the value of the NGO's work; for me, being able to bond with some of the ecstatic villagers who had just received light alleviated my trivial concerns about the heat, flies, and stray animals, in spite of the huge language barrier that we faced in communicating with Tagalog speakers. During this short trip, we spent the night at a rural home with bucket showers and farm animals and were abruptly woken up by roosters at 3 AM – it was a unique experience to say the least.
The following week, we returned to some other communities to interview OML PH's past beneficiaries about their experiences with the light for the purposes of compiling an annual impact assessment report that could be shared with the nonprofit's donors. Although we did not stay overnight, we had to hike up a mountain and walk across shallow rivers to get to one of the villages while it was "sobrang init" (very hot), another experience I won't forget.
Overall, I think I chose the best project for what I hoped to gain. Thanks to our gracious hosts, we were able to seamlessly blend working on our deliverables with exploring the country. On the final day, we presented the NGO with a slideshow and final report, which entailed a modified organizational chart, a sponsorship guide, an impact assessment report, and other tools and tips for measuring impact and improving internal communication. Aside from the skills that we learned and the help that we were hopefully able to offer to this incredible organization, I could not have asked for a better team. PIBV gave me the chance to meet four wonderful friends that I would have never gotten to know otherwise, and I look forward to spending my remaining two years at Penn getting to know them even better!