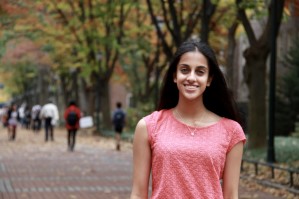 As a high school senior applying to colleges, I knew that I wanted my future dream school to have that quintessential "college feel." I pictured beautiful, warm fall days with people sitting outside, working, eating, socializing. I pictured a college green, with people bustling all the time, clearly excited to be there.
For me, Locust Walk is the heart of Penn and my favorite part of campus. On any given day, on the walk from Van Pelt Library to Huntsman Hall, I will pass dozens of tables and student groups, and I wave to so many friendly faces. The other day, walking down Locust from Huntsman Hall to Williams Cafe, I passed a table for the South Asia Society and waved to a friend from my management class. I passed a table selling tickets for Greek Life philanthropy, and stopped to talk with other girls in my sorority about that day's bake-sale donations. I passed a table for Penn Democrats, and found out where my election day voting location was. I passed a table selling tickets for an upcoming multicultural dance show, and bought a ticket.
In one five-minute stretch, I experienced so many great aspects of Penn student life. Locust Walk is representative of the diverse student body we have on campus, which I think is the greatest thing about it. Passing the different student groups on campus each day, I am reminded not only of the geographic and racial diversity we have, but also diversity of interest.