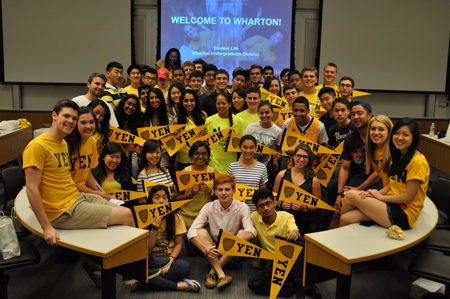 On the very first Tuesday of New Student Orientation, also fondly known as "NSO," I walk into classroom F65 with a mix of emotions—extremely anxious, nervous and excited to meet my fellow "yennies." Ever since then, my cohort has been my prime source of support, friends and fun. The Wharton undergraduate cohort system is often compared to the House Cup that exists within the Harry Potter Realm. Although there are many similarities between the House Cup and cohorts, the cohort system still retains its own uniquely special touch.
To start off, the incoming Wharton freshman class of approximately 500 students is divided into nine groups of approximately 60 students. These nine groups, each named after a currency, ranging from dollar and euro to yen and yuan, are the cohorts. Starting from my very first week at Penn during orientation and throughout the course of my first semester, I got to meet and bond with my fellow cohort members through a broad range of experiences and events. From Tuesday Takeover and the Amazing Cohort Race, to Cohort Thanksgiving and Winter Whartonland, I have made some of my closest friends at Penn and Wharton through the cohort system. Whether it was cheering on one of my teammates as he stuffed a cheesesteak down in 10 seconds and dunked his face into a plate of chocolate pudding to find a gummy bear, or carving cohort-themed pumpkins and building technology-themed gingerbread houses, the cohort system gave me numerous opportunities to interact and bond with my classmates and older cohort members outside of the traditional classroom setting.
Most importantly, my cohort has served, and will continue to serve as an extensive network of support. Not only did I walk into a classroom of familiar, smiling and supportive faces every Tuesday and Thursday during Management 100 class and presentations, but also I gained an entire group of friends, peers and upperclassmen who are constantly willing to be there for their fellow cohort members—whether it be advice on classes to take or the best eats around campus.