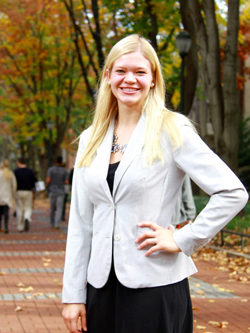 I sit in front of my black Ikea desk with my laptop open and a few papers scattered over the surface. My free Cosi coffee in one corner and my water bottle in the other.
Black, orange and white walls, desks, chairs, wastebaskets, mugs. Themed, branded, and beautiful. I love my little office over here at the Mole.
It's simple and concise, juxtaposing the work that goes on in these four walls and two floors. My first week in marketing has been fun. Full of brainstorming and writing. I'm learning more about the field through writing about it and more about design through watching others do it.
I have a perfect desk. It sits by the window that overlooks the lower level. Four other designers and I are in this sort of loft that creaks whenever someone moves. We all wear headphones and listen to our own personal music, the clicking of mice and keys, and occasional blast of the air conditioning.
I write for a job. I event plan and design for a job. Here at my black desk. Next to my cut-out window that looks at the office below and the street outside, I write, I drink coffee, and I laugh with the creativity of my coworkers.
September 2015 found me well into my senior year of college, a leader in many capacities and clubs, and the newest hire for a local event-production and marketing firm.
I had secured this internship for the summer but decided to go a route that took me to the south for the summer instead.
Luckily this small five-person firm held my position for the fall semester. So senior fall, I not only started my full course load, but also a job writing and event planning.
Holding an internship during the semester has taught me more than I could have ever imagined. It has taught me time management, life balance, and a lot of practical skills.
My weeks are spent in class and in the office. On the weekend when I'm not running or at church, I'm at events. Minus the class, this very well may be my next few years. And I could be okay with that.
I sit in front of my wooden desk at my second job with this desktop and a cup of coffee with my favorite verse on it, writing for fun and planning a club's gala.
Oh senior year, it is here and busy, but great.