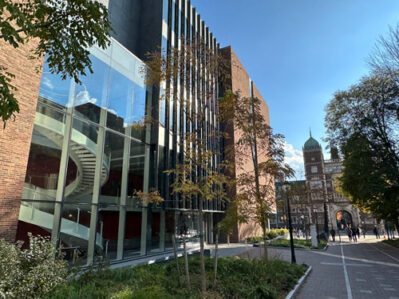 Wharton's undergraduate academic advisors' primary purpose is to assist students in developing meaningful educational plans that satisfy their academic goals. Wharton provides professional academic advisors, peer advisors, and concentration advisors in the academic departments. Additional support is provided by cohort mentors and directors. Coordinated dual-degree students also have professional advisors for their programs.
In the summer, first-years are assigned to a professional advisor in the Undergraduate Division and coordinated dual-degree students will be introduced to their program advisors. In the meantime, we invite you to check out the frequently asked questions below, connect with our Wharton Ambassadors on the Penn Admitted Student Network, and email the Undergraduate Division with any additional questions.
Do I need to have my final high school transcripts sent to Penn?
Yes, they should be sent to Penn's Office of Undergraduate Admissions. See the Penn Admissions first-year Checklist & Deadlines page for more information.
How do my AP/IB scores count toward what I need to take?
You can see how credits and waivers from Advanced Placement, International Baccalaureate, and GCE Advanced (A) Level exams can be applied to Wharton requirements here.
What should I be doing now to get ready to come to Penn?
We recommend that you spend some time exploring Undergrad Inside, our website for current students where you can find information about the curriculum, student clubs, study abroad, and much more.
Note that we will send you detailed information in June about classes, registration, your cohort, advising, and other resources. In the meantime, enjoy your senior year and keep working hard.
Can I get credit for college-level courses I took in high school?
College-level coursework undertaken while enrolled at the secondary level or in the summer prior to matriculation at the University is considered a part of a student's preparation for a Penn education and is used by the student's academic advisor to guide placement into appropriate courses at Penn. Credit is not granted for this coursework. However, students who enroll in courses at Penn during the summer prior to their matriculation into an undergraduate degree program at the University will have those courses and any credit earned added to their undergraduate transcript, which would otherwise start with the fall semester.
When will I receive information about College House options?