At Wharton, you shape the curriculum to work for you.
We give you the opportunity to study arts and sciences, engineering, nursing, communications, education, government administration, law, social policy, and more — all as an undergrad.
Wharton's curriculum encourages students to shape their own educations. Our four-year bachelor of science in economics program consists of 37 courses in business and the arts and sciences. In fact, 25% of the classes you need to graduate must be taken outside of Wharton in Penn's other 11 schools. We encourage you to take full advantage of these options by studying abroad, pursuing a minor, or getting a dual degree in a completely different subject.
The chart shows the 4-Year Integrated Curriculum with Business and Liberal Arts and Sciences.
*Penn uses a course unit (CU) system. Most courses are 1 CU.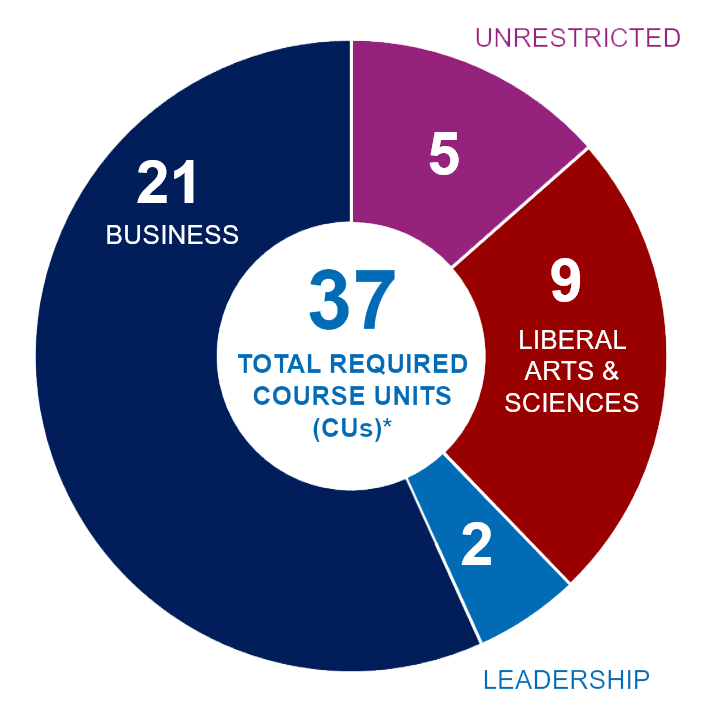 Sample Curriculum
You can craft your own experience around the fundamental classes.
YEAR

FALL

SPRING

First 
Introduction to Economics for Business, math or statistics course, Wharton 1010 (gateway course to the Leadership Journey), and 2-3 other courses
Math or statistics course, 2 Business Fundamentals, and and 1-2 other courses
Second
Wharton 2010 (Business Communication), 2-3 Business Fundamentals, 1-2 other courses
2-3 Business Fundamentals, 1-2 other courses
Third
During the third year of study, you will be taking Management 3010 (Teamwork and Interpersonal Dynamics), completing courses toward your concentration, considering a possible minor and/or studying abroad, and fulfilling any remaining requirements.
Fourth
During the fourth year of study, you will be finalizing your concentration choices and minor (if applicable) and completing your Leadership Journey capstone requirement, and fulfilling any remaining requirements.
Student Profiles
Get the inside story from Wharton students.