My Path to the Galapagos
At the beginning of the spring semester, I had hardly made any plans for how I was going to spend my freshman summer. The advice I had gotten from multiple upperclassmen was that I should use that 4-month-long stretch of time to pursue interesting activities that weren't necessarily preprofessional, in other words, they encouraged me to have fun.
I was aware that Wharton and Penn in general have a wealth of programs and resources that allow students to do just that while still having meaningful, learning experiences. That's what led me to apply and later participate in the Social Impact Research Experience (SIRE), a program which provides up to $6,000 in funding for students to design and complete an independent research project that promotes some form of social good.
SIRE seemed like an amazing opportunity for me to not only get involved in academic research (something I had been eager to do since applying to colleges) and travel to an incredible location, but also  pursue my interest in sustainability, which my curriculum isn't very permissive of. As a Huntsman student, the multiple requirements make it challenging to take classes that aren't closely related to one of my majors. Therefore, SIRE was the perfect way to keep my interest in sustainability alive and supplement my undergraduate experience.
Researching the Sustainability of Ecotourism
My research project investigated the sustainability of ecotourism to the Galapagos Islands, with a specific focus on the social/local impacts of ecotourism growth. The pre-travel research was fascinating but nothing could compare to the experience of actually seeing how tourism in the Galapagos works, and how it's designed to reduce environmental impacts.
Experiencing the Galapagos
Touring the different Galapagos Islands was beyond incredible. Unlike any other place I've visited, Galapagos puts you in close contact with relatively untouched ecosystems where you can swim with turtles and white-tip sharks, witness evolution in the different species of iguanas and observe otherworldly geologic formations. Talking to locals and seeing what regulations were put in place also provided great insights for my project.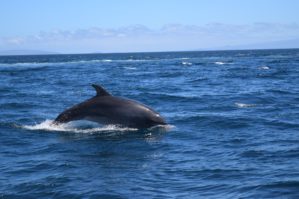 Galapagos is overwhelmingly beautiful, and I'm really grateful to Wharton for having given me the chance to visit and learn about such an exceptional place. In addition to learning valuable research skills, one of the things I take away from this experience is that amazing opportunities, at Wharton and beyond, are a mere application away and you should put yourself out there and apply.
–Bernardo Sarti
Posted: January 26, 2017